<!== Packaging Machinery ==> <!== Packaging Machinery ==>
Long Dwell Cutting Head for Horizontal Wrappers -

The Long Dwell cutting head is designed for producing various sizes and shapes packages. is designed for high speed packaging with hard to seal film and where an airtight package is required.
The system allows the sealing bars a longer sealing time compared to the classic rotative cutting heads.
The "D" type cams allow the sealing bars a translate movement beyond the rotative portion.
The LMC builds this unit for various customer specialising in packaging machines and for special customer requests. Optional Rotary Ultrasonic Bonding system is available across the range, and allows to take full advantage of ultrasonic sealing technology.

TRANSLATION SEALING POSITION
The sealing bars remain in full engagement for about one third of rotation cycle and the knife divide the packages.
The flat part of the "D" type cams corresponds to the sealing length.
POSITION AFTER SEALING
At this point the sealed parts has been cut, separated, and released to the delivery belt.
The sealing bars continue their movement with rotative movement in the circular portion of the "D" type cams.
LMC produces also horizontal wrapping machines for polypropylene and polyethylene film, cutting heads units, pulling and sealing wheels units, differential units for registered film, different spare parts for wrapping machines and special machines on request.
Complete turnkeys packaging solutions are available on request.
Please contact us on info@jzw.com.au to discuss your application.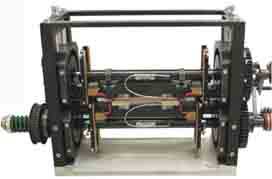 Long Dwell Cutting Head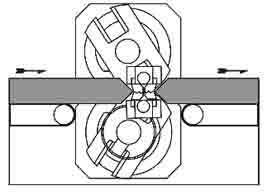 TRANSLATION SEALING POSITION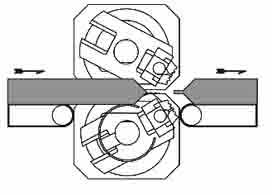 POSITION AFTER SEALING