<!== Packaging Machinery ==> <!== Packaging Machinery ==>
SM 500 HORIZONTAL SIDE SEAL WRAPPING MACHINES -

Leading in its class for reliability and versatility, the new SM Series is made completely in painted steel RAL 9007. Optional Rotary Ultrasonic Bonding system is available across the range, and allows to take full advantage of ultrasonic sealing technology.

Some features are:-
Mechanical solutions employing latest technology, ideal for handling of bulky and heavy products.
New generation PLC, for complete management of all machine functions.
High degree of flexibility in handling various sizes and shapes of packages.
Quick and accurate change over for various sizes of products.
Suitable for various types of products and containers, to be wrapped in centre folded film (polyolefin type) and shrink.
Description:-

3 belts intermittent machine.
Hot bar sealing system with interchangeable Teflon parts.
Electronic regulation of hot bar temperature.
Automatic product loading.
Needle perforator.
Feed rolls for film unwind.
ECC certified.
Machine specifications
Left hand or right hand.
Welded steel, painted with epoxy paint, guards in stainless steel(AISI 304).
RAL 9010 (Beige).
400V-50Hz Three phase + neutral + ground with power consumption of 3 Kw.
Consumption 100 nl/min at 5 bar.
Conveyor with chain - Stainless steel parts in contact with the product.
Fixed or adjustable, depending on the product.
Cantilevered reel holders with self cantering cones suitable for a film width of 600 mm and a reel dia. of 350 mm.
Set of cantilevered pulling wheels + set of cantilevered sealing wheels + set of of cantilevered flap folding wheels.
T Guillotine type cutting-head unit with possibility of height adjustment. One couple of sealing bars with a width of cut 500mm
Vacuum sucker for trimmed flap. No 1 set of cantilevered pulling rolls for constant flap tension. No 1 set of cantilevered flap rewinding roll with big capacity and easy removing of trimmed film.
Cantilevered unit with only two rolls for easy belt change.
Package length with mechanical speed variator in oil bath. - Main drive with two reducers. – Cutting head speed variator in oil bath – 0.75 KW motor with speed controller (inverter).
Hand-wheel for sealing bars speed and package length.
All units are cantilevered (Infeed conveyor, sealing wheels, cutting head and delivery belt)
Safety guards in conformity to CE rules.
Machine without lubrication necessity: Only open gears and chains needs some external greasing.
Standard Specifications
| | |
| --- | --- |
| MODEL | |
| Sealing dimension:- | 500 mm length of the sealing bar |
| Max. reel dimensions:- | 300 mm D x 620 mm W |
| Sealing speed:- | 15 - 20 m/min |
| Production speed:- | 35 pc/min |
| Machine dimension:- | 2,100 mm L x 1,400 mm W x 1,500 mm H |
| Working height:- | 850 mm +/- 50 mm |
| Supply voltage :- | 400VAC x 3 + N, 50 Hz |
| Power consumption:- | 2.5 KW |
| Net weight:- | 700 kg |
Complete turnkeys packaging solutions are available on request.
Please contact us on info@jzw.com.au to discuss your application.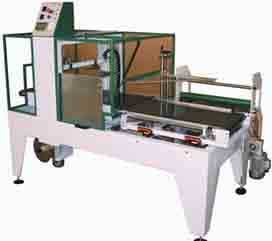 SM 500 Horizontal Side Seal L Wrapping Machine.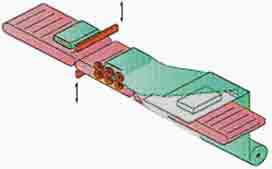 SM 500 Horizontal Side Seal L Wrapping Machine - process flow.